This is a multi-part series on employee engagement based on my interview with New York Times best-selling author Kevin Kruse. As a former business owner and winner of a "Best Place to Work" award, Kevin has a wealth of real-life experience. I found him to be funny, down-to-earth and very reasonable in his approach to building an engaged workforce. I'm very grateful for the wisdom he is sharing with The People Equation readers.
Today's blog post sets the stage for my interview series with Kevin about his new book: Employee Engagement for Everyone.
What does "employee engagement" mean? Kevin Kruse, doesn't believe "engagement" means that employees are necessarily happy, or even satisfied. But they are engaged, which he defines as:
Employee engagement is the emotional commitment the employee has to the organization and its goals.
"When employees care – when they are engaged – they use discretionary effort. In other words, they are willing to go the extra mile" says Kevin.
One of the things I loved about Kevin's book is that he keeps it simple. It's a very easy read, yet is packed with excellent food for thought and actionable ideas. Kevin considers his latest book a "workbook" that is accessible to all levels of employees.
He says about Employee Engagement for Everyone – "What I'm really trying to accomplish— it's just about getting the message [of employee engagement] out there, and [for this book] less is more. And I wanted to make the book interactive, make it fun. I would rather write a very concise, employee engagement book for everyone that hopefully will reach ten thousand people; then a big fat book that reaches one thousand people."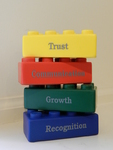 The book is structured around what Kevin calls the four drivers of employee engagement:
Communication
Trust
Growth
Recognition
Throughout the book, Kevin offers checklists and assessments for employees to gauge their level of engagement on each of the four drivers. There's also a free assessment at MyEngagementStyle.com.
The book Employee Engagement for Everyone is a quick read and one that can truly benefit all employees.
Next in the series: watch for upcoming posts on who "owns" employee engagement in an organization, the Law of Diminishing Returns, and how to build trust to increase employee engagement.
Disclosure: some of the links in this post are affiliate links, meaning if you click the link and make a purchase (just viewing the link is free) then I may receive a commission.