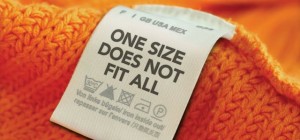 Appreciation matters.
According to a research white paper by daily recognition proponents Baudville, when employees were asked by the global human capital consulting firm Towers Watson to identify "very significant" motivators of performance, 66% of respondents answered "appreciation" as opposed to only 15% who reported financial reward.
So, let's say that you're a manager who wants to recognize employee efforts. Or, perhaps you have a peer who saved your bacon and you want to say a heartfelt "thanks!" What's the best way to get your message across?
My answer is, "it depends". While all people enjoy being recognized, they don't enjoy being recognized in the same way. So, for some people, the recognition with all the hoopla at the monthly employee customer service awards is just fine. For others, they'd rather have a root canal than have everybody looking at them.
Here's the thing about recognition: the people giving it have good intentions, but if they don't know at least a little bit about the recognition recipient, the praise may fall far short of the positive benefits they'd hope for. That's why we sometimes feel our tokens of appreciation aren't, well, appreciated.
Before you write off these people as ingrates, consider how their personality may play into the picture. Is the person you praised outgoing and enthusiastic? Or perhaps she's more reserved. Maybe he's a hard-charging character, or is an analytical "thinking" type. Paying careful attention to your colleague's natural preferences for recognition can provide you clues into the best way to show your appreciation.
You might be thinking, "What?! You want me to be an armchair psychologist just so I can say 'thank you' to a co-worker?" No, you don't need to be a shrink; you just need to reflect a bit before you say "thanks". People tend to prefer recognition that falls into one of four categories:
No-Frills. People with this preference are direct, "straight-shooter" types. This person does not want a 10-piece marching band to announce his or her accomplishment. Keep the praise simple.
Social. For this person, enthusiasm is very important. And if the praise can be done in public, all the better! People with this recognition preference are natural networkers— public recognition helps them feel connected to those who know them.
Low-Key. Some people just don't want to have a fuss made over them. They appreciate recognition as much as the next person, but it needs to be calm and most importantly sincere. People who prefer this type of recognition can spot a phony a mile away.
Specific. "Nice job" may suffice for some people (think: No-Frills) but that won't cut it with a person who craves details. People with this recognition preference like to be recognized for specific accomplishments or job skills. The praise doesn't need to be effusive, just accurately stated.
Giving people recognition lets them know that their work matters. When you do it in a way that honors their own unique preferences, you take it a step further: you show them that they matter.
A modified version of this blog post appeared as Recognition. It's All Good. Right? Wrong. on Baudville's Daily Place for Recognition blog. It is reprinted with permission.